Decorate Your Nursery with Drapes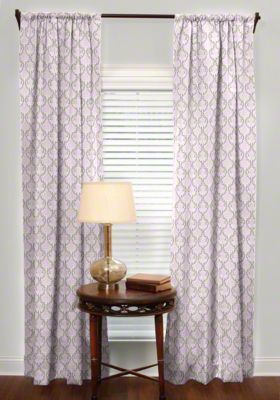 Curtains and drapes can brighten up any room, but in a baby nursery, these are a necessity in providing shade, atmosphere, and relaxation. Here are a few tips to help get your dream nursery started!
There are many types of curtains and drapes to choose from, but the three basics are tab top, grommet, and rod pocket. These are all great options to consider when designing your baby's room.
Tab top curtains can give you an opportunity to utilize different color tab ties to coordinate with the drapes. Try pink or blue tab ties to go with a cream or white curtain paneling. It's a subtle and delicate touch to a baby's space.
Rod pocket curtains are more traditional in style. They are not only used for function but can be made as decorative paneling, where the paneling would only cover the ends of the drapery rod. Decorative paneling layered over a sheer or cotton curtain to soften the light, can create an elegant and graceful look.
Grommet draperies have a more modern feel. The grommets are sized to fit your rod and are easy to open and close. Although, some say these are better suited in a living room or master bedroom, if you plan to convert the nursery into a guest room or office, grommet drapes should be considered as an option.
Fabrics are YOUR choice! We have hundreds of fabrics to choose from. Remember, nurseries should be a light, calm, and serene place for baby. Soft pastels are always a safe bet. Although, if you want to have a more lively room consider primary colors in small doses. Too much bright color can be overstimulating to a baby. Use soft sheers under heavier silks, cotton and velvet drape paneling. Mixing textures will give your room an expensive look. Solids are simple but contemporary and patterned fabric can make your windows interesting and fun.
In the end, your baby is the most important part of the nursery. Keep him or her in mind when deciding on how to decorate the space.