Grommet Curtain Info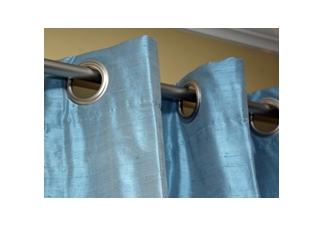 Grommet curtains are a casual, modern option for custom curtains. Grommet panels offer a crisp, casual style, and the grommet details are mindful of nautical hardware.
Decorating with Grommet Curtains
Grommet curtains used for shade are casual and functional in any setting. Because the grommets are used to attach the curtains to the curtain rod, the curtain panels easily open and close to adjust your shade.
For a nautical style, grommet curtains look great by the pool, on a gazebo, on an outdoor pavilion, or a patio that overlooks a pool, lake, or beach. Paired with a navy, white, or ocean-patterned Sunbrella fabric, they look right at home by the water.
Considerations with Grommet Curtains
Grommet curtains slide easily across the curtain hardware. This works well for shade curtains that are going to be opened and closed to adjust your shade. In very windy applications, consider if the movement of your custom curtains will be a factor in your space.