Why Drapes Curtains N More?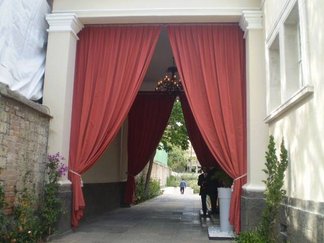 Curtains are one of the best ways to make your home welcoming and stylish, while also making a statement about your own personality. With such a big job to do, drapes and curtains shouldn't be limited to whatever is in stock at your local chain superstore. We enable customers to create their own high-quality, fashionable window coverings with an array of hundreds of fabric choices and multiple styles. With this vast selection, designing your custom drapes for any room, as well as outdoors, can be done with the click of a mouse.
Creative Styles for Every Room
We offer custom curtains in multiple styles that will take your interior design project to the next level. Our pleated drapes come in three styles - pinch, euro, and goblet - and the flat top and tab top curtains look elegant and modern. We also offer tie top curtains, which are feminine and classy, making them ideal for a teenage girl's room, nursery or anywhere you'd like to add extra charm. You can browse our selection of custom curtain types to determine which style suits you best. Choose your favorite fabric and your desired curtain size, and you will be well on your way to sprucing up any room with custom drapes.
No Windows Needed
We can help you with curtains for every room, as well as outdoor living spaces. Our selection of outdoor curtains is full of stylish ideas that can be customized to your taste. Great for poolside cabanas, outdoor dining areas, backyard pavilions, and other exterior spaces, our custom outdoor curtains are made of durable, weather-resistant fabrics for year-round use. Select from hundreds of fabric colors and designs to create a motif you'll love.
Specialty Window Coverings
Our collegiate window coverings are perfect for a man cave, a child's room, or an entertainment gathering spot, or you can switch out your "everyday" curtains with drapes supporting your favorite college team on game days.
It's All in the Details
We also offer all the hardware you'll need to hang your new custom drapes. Beautiful finials, rings, brackets, and tiebacks can easily enhance the look of your drapery, and our selection is unsurpassed. From basic to ornate, our drapery accessories are the perfect way to make your custom curtains really work for your space. To further help you redecorate with custom drapes, we offer an easy-to-follow measuring guide and vital cleaning tips.
Design Your Own Custom Curtains
With our vast selection at your fingertips, there's never been a better time to design your custom drapes. Whether you are searching for outdoor curtains or drapes for your baby's nursery, we can dress every window of your home or office, as well as your outdoor getaway spot.