Drape Type:
Euro Pleat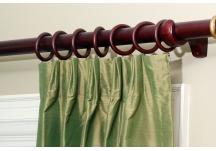 2 Panels (Pair)
Ordered when a mirrored pair of panels is required for installation. This option is normally used when selecting left and right drapery panels for a window.
1 Panel (Single)
Ordered when a single panel is required for installation. Next select right, left or center depending on which direction you will want the drapery panel to open.
DrapeFabrics

Measure the Area You Wish to Cover

Rod Face - Measure the width of your drapery rod, not including finials
OR
Coverage Area - Measure the width of the area you want to cover. If ordering pleated drapery, consider adding 4" - 6" on either side of your opening to maximize natural light and provide the best finished look.

Note: We have made allowances for fullness as needed to ensure a beautiful finished look.

If ordering drapery that does not need to close (stationary), consider ordering a drapery with less coverage.
How to Measure Length for Euro Pleat Drapes

Typically, pleated drapes are used with drapery rings or a traverse rod. This style comes standard with drapery hooks set in the back of the panel for installation purposes. To get an accurate measurement, you'll need to know which hardware you will use before measuring for your drapery length. Refer to the drapery measuring diagram on this page.

Decorative Traverse Rod: Measure from the bottom of the rings to the floor. Pleats will hook into the rings and the decorative drapery rod will be seen. (as shown in photo)

Standard Traverse Rod: Measure from the top of the drapery rod, to the floor. Pleats will hook into carriers that are not seen, and the pleats will cover the drapery rod.
Drapery Return
The return is the measurement from the front of your drapery rod to the wall. Measure the depth of your hardware brackets to determine your required drapery return.
Note: A 3.5" return is most common.
Hanes® Eclipse Blackout
This is a coated lining with a soft hand. It provides sun protection, insulation and blocks out light. 100% polyester. Available in white or ivory. Interlining not available.
Add Tie Back(s)
Tie backs are made 3" wide.
Tie back length is made according to the width of drapery ordered.
A hook pin set will be included in the seam 1" from the end of each tie back.
Create a relaxing and inviting indoor space with custom Blackout Curtains with Euro Pleat. The European pinch pleat curtain is a variation of the traditional pinch pleat where the drape is sewn at the top of the drape giving a tailored pleat that opens allowing a beautiful flow of the fabric. Pinch pleat curtains are hand pleated, pre-pinned and ready for installation. They provide a clean look when open or closed. The inverted pleat combines with any decorative rod and rings creating a contemporary or casual setting in your home.
Our custom blackout curtains feature Hanes® Eclipse Blackout lining. This is a coded lining with a soft hand. It provides sun protection, insulation and blocks out light. Constructed of 100% polyester, this lining is available in your choice of white or ivory.
Drapery hardware not included.
Shipping:
Warranty:
Product Specifications:

Shipping Dimensions:

48.00 × 9.00 × 8.00 inches

Approximate Shipping Weight:

12.00 pounds

Additional Information:

Custom drapes are fan folded and placed in a plastic bag before shipping.