Custom Outdoor Drapes with Tab Top
Write a review
SKU#: TD-112-HWEBH

Currently Unavailable
Fabric Selection:

Outdura Sparkle Skipper (1704)
Price: $

138.88

Quantity:
Made in the USA!
Drape Type:
Tab Top Header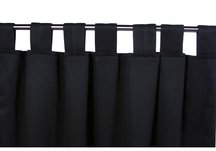 Drapes are made with fabric loops along the top edge to allow the rod to be run through each loop.
2 Panels (Pair)
Ordered when a mirrored pair of panels is required for installation. This option is normally used when selecting left and right drapery panels for a window.
1 Panel (Single)
Ordered when a single panel is required for installation.
OutdoorDrapeFabrics
Measure the Area You Wish to Cover

Rod Face - Measure the width of your drapery rod, not including finials
OR
Coverage Area - Measure the width of the area you want to cover. If ordering pleated drapery, consider adding 4" - 6" on either side of your opening to maximize natural light and provide the best finished look.

Note: We have made allowances for fullness as needed to ensure a beautiful finished look.

If ordering drapery that does not need to close (stationary), consider ordering a drapery with less coverage.
How to Measure Length for Tab Top Drapes

Measure for required length from the top of the rod to the floor, referring to the measuring diagram on this page.

Important: The diameter of your drapery rod will affect the length of your panel.


Tabs are 4"L x 2"W
If your drapery rod is larger than 2" in diameter, you will require a longer tab length. Please call.
Add Tie Back(s)
Tie backs are made 3" wide.
Tie back length is made according to the width of drapery ordered.
A hook pin set will be included in the seam 1" from the end of each tie back.
Tab Top Drapes offer a clean, uncomplicated style to any room decor. With easy installation, tab top drapes add simplicity to your life and your home! These classic drapes are made with no rings or hooks, which creates a free-hanging drape with fabric tabs at the top. Tab top drapes can be used to add dimension and design to any outdoor space. Choose from a variety of fabrics to coordinate your drapes with your decor!
Tabs are 4"L x 2"W
Consider: If your rod is larger than 2" in diameter, you will require a longer tab length. Please call.
Drapery hardware not included.
Fabric Samples:

Because of variations from one computer screen to another, it's difficult to precisely match fabric color on our website. We suggest that you purchase fabric samples if color matching is important to your individual buying decision. To order fabric samples, click the "Sample" button on the top menu while viewing the fabric of your choice in our Fabric Selection Tool. From there you will be able to cart your sample. You may also purchase fabrics by the yard by clicking the "Order" button on the top menu.
Customer's Own Material:

Drapes Curtains N More can create custom products using fabric you already own! Simply choose Customer Fabric (COMFAB) as your fabric selection. (COMFAB is usually listed first in our Fabric Gallery.) There is a one-time (per order), non-refundable $25.00 charge for the handling of your material. Please read our COM Procedures for more information.
Drapery Lengths:

Graze Length: The drapery panel hangs just at the floor.

Trouser Length: Add 1"-3" to your Drapery Length so that the panel spills slightly onto the floor. Trouser is not recommended for functional drapery panels.

Puddle Length: Add 4"-12" to your Drapery Length so that the panel "puddles" on the floor. Puddling is not recommended for functional drapery panels.
Drapery Weights:

Vinyl-covered, lead-free drapery weights are used in the bottom of our drapery hems to provide control of drapery panel corners after installation. Drapery panels have a better hanging quality when weighted at the bottom corners.
Return Policy:

Custom orders are NON RETURNABLE and CANNOT BE CANCELLED once placed due to the custom and made-to-order processes involved.
Any problems or concerns with custom-made products must be reported within 5 business days of receipt. Our workmanship is guaranteed within 6 months of receipt of your custom-made product. Please contact customer service with your concerns.
For more information, please read our Terms & Conditions.
Shipping:
Product Specifications:

Shipping Dimensions:

48.00 × 9.00 × 8.00 inches

Approximate Shipping Weight:

12.00 pounds

Additional Information:

Custom drapes are fan folded and placed in a plastic bag before shipping.